Arizona Wallet | Sew Mama Sew |
Teresa from Dandelion Drift designed this handy wallet to highlight the pretty new fabrics from the Arizona collection by April Rhodes. Download the free PDF template, and hop over to learn more ...
The 10-Minute Skirt (re-purposing old shirts into skirts)
My little Elli ( who is 7 years old and just started 2nd grade today.....ack!) is a skirt fanatic. Well, a dress fanatic too. I know, I've told you that here about a trillion times, so no surprise ...
http://www.makeit-loveit.com/2014/08/the-10-minute-skirt-re-purposing-old-shirts-into-skirts.html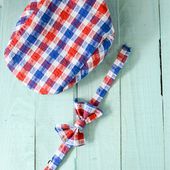 Dapper, Easy, No Sew Bow Tie Tutorial
Submitted by nicole on Mon, 08/18/2014 - 09:18 Is there anything cuter than a little boy in a bow tie and matching hat? At the very least, it's right up there with kittens in boxes for sheer ...